The Union Jack, to be precise… Before you utter medical advice – let me explain..
The entry date for November's soap challenge was approaching.
Fast. Same same as last time…Even though I had seen what others were preparing as their entries, I did not have any clue what I wanted to do for it. The theme was "Mosaic soap". The idea was to create a picture of small pieces of soap and kind of glue them together with another gallon of liquid soap batter, like you would if you were plastering your bathroom floor with tiny tiles.  Nothing easier as that – as long as inspiration hits you.
Inspiration kept hiding from me until I was about to resign and skip this challenge – until the 11th of November. The day, when in Germany the official carnival season opening is celebrated in Mainz, the German capital of carnival (or "Fassenacht", as they say here).
Don't listen if people tell you that Cologne and Düsseldorf have Carnival celebrations, too. They are merely poor copies of the original 🙂
November 11th is Remembrance Day in the Commonwealth states , and in the USA, they have Veterans' day. Both are days on which people honor  the end of World War I. or / and military service men and women who have served their countries since then till now.  By the way, I really do appreciate that – in my opinion, people who are willing to serve their contries and risk to get hurt on duty deserve to be treated with respect, which is not usually the case here in  my home country. But let's not get political – there I was, following the news coverage, seeing empty places in the German Carnival capital, no carnival revellers (had to look that up – in German we call them "Narren") – so sad. Switching TV channels, I could see the Royal family in their festive attire attending the Poppy Day ceremonies.
Flashback
Must have been 2005 or so. It was November, and I was still working for Rolls-Royce in Germany then. I had to travel to the UK in order to attend a project meeting (I was project lead for the SAP implementation in my logistics department). Rolls Royce has plants all over the country, and some of them are in the defence sector, so they have strict security regulations. That means, that even though I carried my company badge, I was not allowed to enter unaccompanied into the company's building and find my way to the conference room, but I had to wait until somebody picked me up. Being a communicative person, I asked the elderly man at the reception counter, why he was wearing a poppy blossom attached to his lapel, and he explained to me that this was issued by a charity campaign called The Poppy appeal which collects money for members of the armed forces who are in need of support.
I remember saying that this was a lovely idea and told him that we do not have anything similar in Germany – well, we all know about the very problematic military history.  He asked me if anyone of my family had been in the war, and I told him about my grandfather who hade been deployed to Norway at the end of the war, aged 23, and lost his eyesight, his hearing and his right arm in an explosion. Suddenly the gentleman at the reception desk took off his poppy pin from his jacket and gave it to me as a present. I found that so extremely sweet and touching.
Back in 2020 – The Royal Highnesses covered in poppies,  the British flag softly waving in the air…
I became sentimental for a second, thinking about the downlight at the end of the already horrible year – the UK leaving the European Union (ok. Sean Connery leaving the planet was also a downlight)….
Wait a moment – there she was – Lady Inspiration, frantically waving with one hand and pointing towards the flag with the other.
Heureka! From this moment on, everything went like fast forward. I had my slab mould, which actually was some kind of acrylic dish meant to keep the bathroom drawers in order, I had borrowed a set of japanese spatulas from my partner's toolbox (remind me to return them!) and I had a recipe.
On a website for quilting nerds, I had found a usable pattern for cutting pieces for the flag, which I used to calculate  how much blue and how much red soap I would need. And I could stick the printed pattern to the bottom of my acrylic box and use it as "map" for arranging my soap pieces.
The soap batter is made from olive oil, coconutoil, cocoa butter, lard and castor oil. It's scented with Gorse flower from Gracefruit. Gorse flower reminds me of my beautiful holidaywith one of my best friends (Hallo Anette 🙂 !!! ) in Scotland years ago, and I found it appropriate for a British themed soap.
Here you see the soap batter merrily gelling away in the oven:
Here you see the soap batter after moving out of his acrylic box and waiting to be sliced up:
Here you can see the why it is good and important to have a properly stuffed toolbox (or at least, have access to one)
Here you see my beautifully arranged workplace, strewn with cutting patterns and stuff:
And here you see the progress of arranging the tiny pieces in the mould: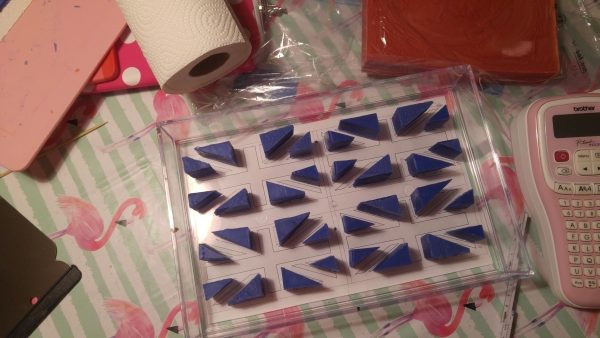 The yellow stuff underneath is fully biodegradable glue – aka cocoa butter:
Mind the gap!
The remains of the day (I doubt, Sir Anthony Hopkins has fun in soapmaking)
and – tadaaa….  the final results – cut and trimmed and differently decorated:
Keep calm was my mantra while planing and cutting the soap – believe me, I was using quite a lot of strong language until everything was done:
Patriotic underwear – I bought these silk knickers and camisole years ago and have never had the heart to give them away.
So here it is. Superbini's soap challenge club entry 11/20.
It's a bit more than just soap. It's a declaration of love to a wonderful country and the wonderful people I had the honour and pleasure to meet. I have been to quite some countries, and I love France and Italy, but my affection for the Britons is special. I openly envy you the Queen.
Contrary to the common rumours, it is possible to have a tasty meal in the UK. And yes, I do like Haggis and smoked Haddock for breakfast.
The weather ist not bad on 364 days of the year.
Our garden shed shelters 4 english motorcycles. One of them is pink. Triumph Motorcycles were the only ones to put extraordinary colour schemes on their bikes. Some people found that strange, I love them for that.
To make up for Little Britain, you have decent folks like DCI Barnaby and  Agatha Raisin. Faboulous scientist like Dr. Who. World known veteriniarian Dr. James Herriott was a part of my childhood reading experience.
Well, you see – it takes more than a disputable "leave!" decision and a pandemic to come between and girl and his favourite country (apart from her home country, of course). Once we will be free and safe to travel again, we will catch up on everyting we missed out this year (Whitby Gothic Festival, Trooping the Colour etc). Britain, be prepared!!!