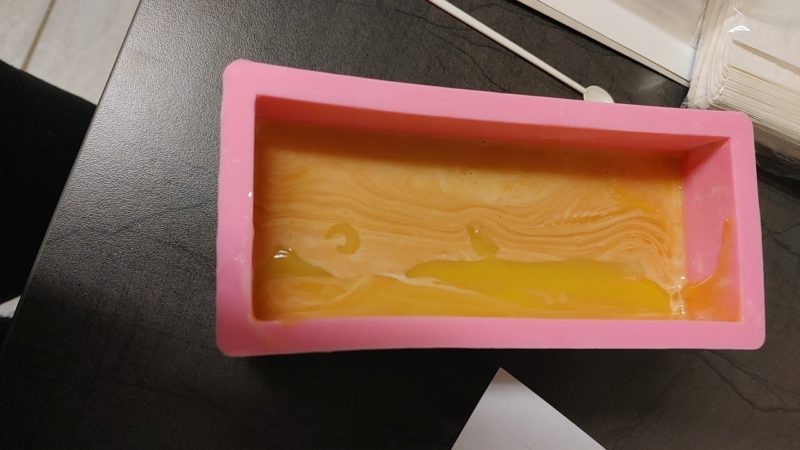 Hallo liebe Saponistengemeinde.
Vor einiger Zeit weilte ich berufsbedingt einige schöne Monate in Süditalien, in Pomigliano d'Arco, um genau zu sein, das liegt in der Nähe von Neapel. Wenn man von Neapel zur Arbeit fährt, guckt man immer auf den Vesuv. Das ist sehr beeindruckend, nicht nur, weil man ja die Geschichten von Pompei und Ercolaneo kennt, die der kleine Berg in einem Anfall von Übellaunigkeit im Jahre 79 nach Christi mit einem vulkanischen Rülpser unter dem Inhalt seines Vulkanmagens unter sich begrub.
Nicht minder beeindruckend waren die Eskapaden des damaligen italienischen Ministerpräsidenten, Silvio Berlusconi. Komische (nicht komisch ha ha) Präsidenten wählen können nicht nur die Amerikaner.. Berlusconi fiel nicht nur durch seiner Neigung zu deutlich jüngeren Gespielinnen fragwürdiger Provenienz auf. Vielmehr hat er es als einer der wenigen Staatsoberhäupter der Welt geschafft, Queen Elizabeth aus der Fassung zu bringen, und sein Kommentar über den 44. Präsidenten der Vereinigten Staaten veranlasste meine lieben Kollegen, die Hände theatralisch in die Luft zu werfen und dann schamgebeugt die Gesichter darin zu vergraben. "Sabrina (Sabine war irgendwie schwer auszusprechen) – oggi siamo diventati la vergogna dell' Europa!!" (heute sind wir zur Schande Europas verkommen).
Aber was genau hat der Silvio denn über Obama gesagt, und vor allem – was hat das mit SEIFE zu tun??? Ich muss mal abschweifen. Wir benutzen beim Seife machen (also, viele von uns, es gibt auch DIE ANDEREN) gerne schöne Farben und Düfte. Während die Farben meist eher verhaltensunauffällig sind und brav ihren Job erledigen – bunt machen – kommt das eine oder andere Mal ein Duft um die Ecke, der sich denkt "wenn ihr mich schon in der Laugenpampe versenkt, dann räche ich mich ganz fürchterlich".
Die Varianten sind mannigfaltig. Manchmal rührt man den Duft in den Seifenschleim und denkt sich "da geht noch was!". Das passiert meistens, wenn man eigentlich drauf gesetzt hat, dass das Parfumöl den Lauge-Fett-Mix zum Andicken bringt, weil man vielleicht ein vielschichtiges Design geplant hat (#erbsenprinzessin – stay tuned). Dann wiederum hast du noch nicht mal einen Tropfen Duft untergerührt und plopp – Seife am Stiel. Auch hier wieder – immer dann wenn es net passt.
Manche Düfte sind aber eher die Spätzünder unter den Fieslingen… Und hier kommt wieder elegant die Kurve zu Berlusconi und Obama. Berlusconi hat damals gesagt, der neue Präsident hätte alles, was man braucht, um erfolgreich zu sein. Er sei jung, er sei gebräunt (abbronzato) und gut aussehend.
So ähnlich ist es mit meiner Bubblegum Ice Cream Woodgrain Soap auch gewesen. Den Duft hatte ich in England bestellt, bei Gracefruit. Bis zum Brexit ein gern benutzter und zuverlässiger Lieferant schöner Düfte. Nach dem Brexit hat sich das dahingehend geändert, dass bis zu dem Moment, wo sie das Paket an den Spediteur übergeben, alles ok ist. Dann kommt UPS und macht alles anstrengend. Erzähl' ich ein anderes Mal.
Bubblegum Ice Cream riecht wie "A fruity yet spicy bubblegum accord opening with top notes of apple, pear and sugary notes supported by softer notes of strawberry, peach and orange warmed by spicy cinnamon resting on a bed of sweet raspberry and vanilla.". Hört sich doch gut an, oder? "Acceleration: Moderate – Discolouration: None" – super! Acceleration bedeutet "andicken" und discolouration bedeutet eigentlich nicht, dass es dis-coloured, also ent-färbt, sondern eher färbt wie Hulle. Egal wie.
Manchmal ein bisschen ins Cremfarbene, Dunkelbeige, ich hatte auch schon welche, die gingen in zartlila – und dann kommen die ganz ganz bösen… Die, die richtig dunkel machen. Und wenn ich dunkel sage, meine ich dunkel. Woodgrain technique heisst, dass man verschieden eingefärbte Seifenleime über die Seite einer zu Anfang leicht gekippten Form entlang in dieselbe reingiesst. Die Vollprofis kriegen es auch noch hin, mit einem lockeren Schnickser aus dem Handgelenk ein paar Astlöcher zu zaubern. Ich hatte, nachdem wir nach einer gefühlten Äone endlich unser Paket aus England bekommen hatten, schon mal einen Test gemacht, und da hat sich Bubblegum Ice Cream schon als nicht ganz so non-discolouring gezeigt – ein zartes Braun lachte mir aus dem Testblob entgegen.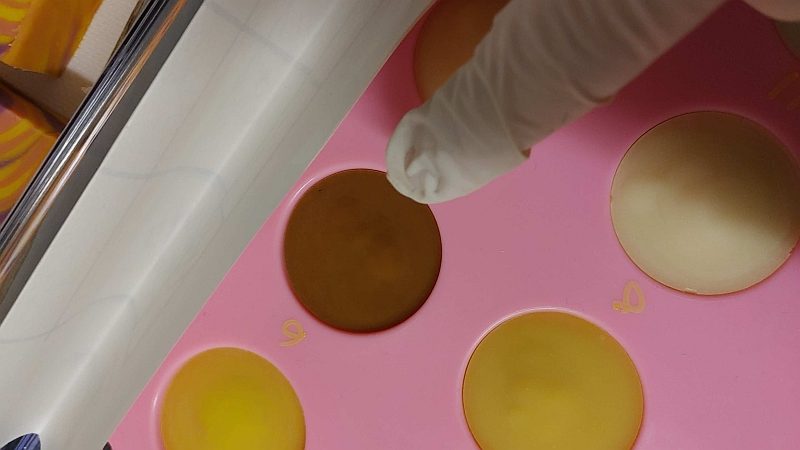 Mein Herz rief "Woodgrain!", und die zum Herz gehörenden Händchen mixten blitzschnell etwas Rosé und weiss in zwei der drei Töpfchen und den Duft allein in das ungefärbte. Wie das ganze so in der Form fertig eingegossen aussah, wirkte alles noch unverdächtig. Auch ausgeformt und geschnitten am Tag 1 sah es noch nicht wirklich woody aus.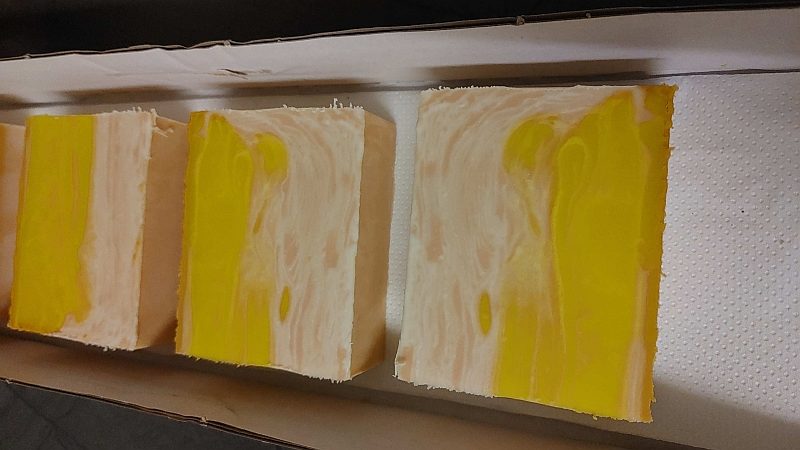 Das leise Kichern aus dem Pappedeckel hätte mich schon misstrauisch stimmen müssen.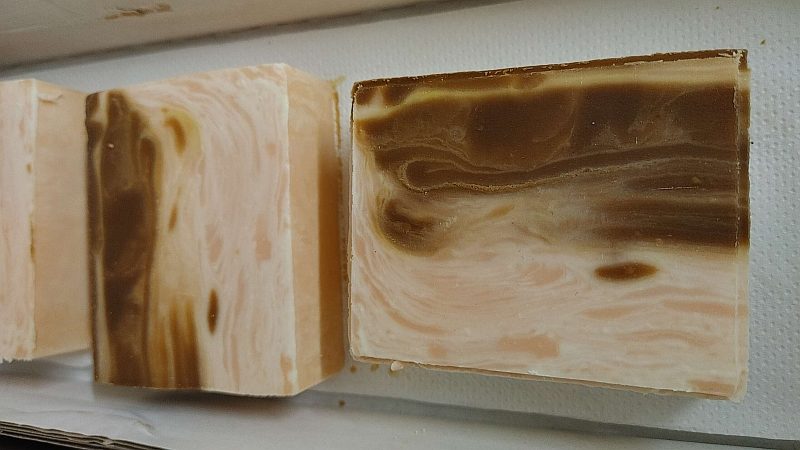 Aber es hört nicht auf.. Es wird jeden Tag schwärzer… Bello ed abbronzato.. Nicht mehr so ganz giovane, aber das soll Seife ja auch nicht sein.
Ich bin sehr gespannt, wo die Reise bräunungstechnisch hingeht. Der Sommer ist ja noch lang.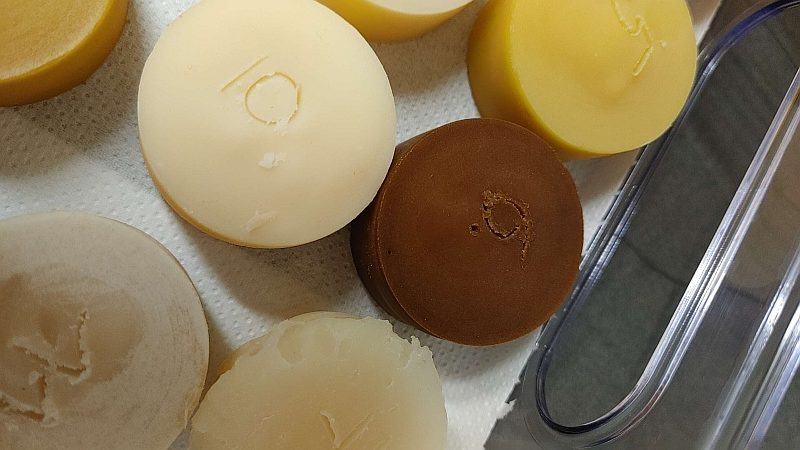 Abschliessend bleibt zu sagen, dass Bubblegum Ice Cream so lecker riecht (kommt mich gerne mal in meinem Keller besuchen) dass ich ihm sein unkooperatives Verhalten verzeihen werde. Mit ein bisschen Fantasie kann man sich das ja auch zunutze machen. Ich zeig euch später mal ein tolles Beispiel dafür. Lemon Pound Cake spielt nämlich in derselben Färberliga…